Do you know the phrase "DO YOU KYOTO?"
This is the message we are transmitting from Kyoto to the world. Meaning "Are you taking actions to save the environment?", it was created in the wake of the Kyoto Protocol (an international treaty adopted at COP3, the third session of the Conference of Parties to the UN Framework Convention on Climate Change which was held at the Kyoto International Conference Hall in 1997, effective from February 16, 2005).
The name of the city is now widely known as the birthplace of the Kyoto Protocol and is frequently associated with environmental matters. Now, the word "KYOTO" is being used worldwide to denote something more than the name of a city -- "doing something good for the environment."
The Kyoto Marathon will be held again this year under the main concept of "DO YOU KYOTO? Marathon," denoting many different aspects of consideration for the environment.
Major initiatives
Water points using tap water
"Kyoto's waterways-The Story of Sosui" bottled water will be provided at water stations.
Kyoto's tap water meets the world's highest standards.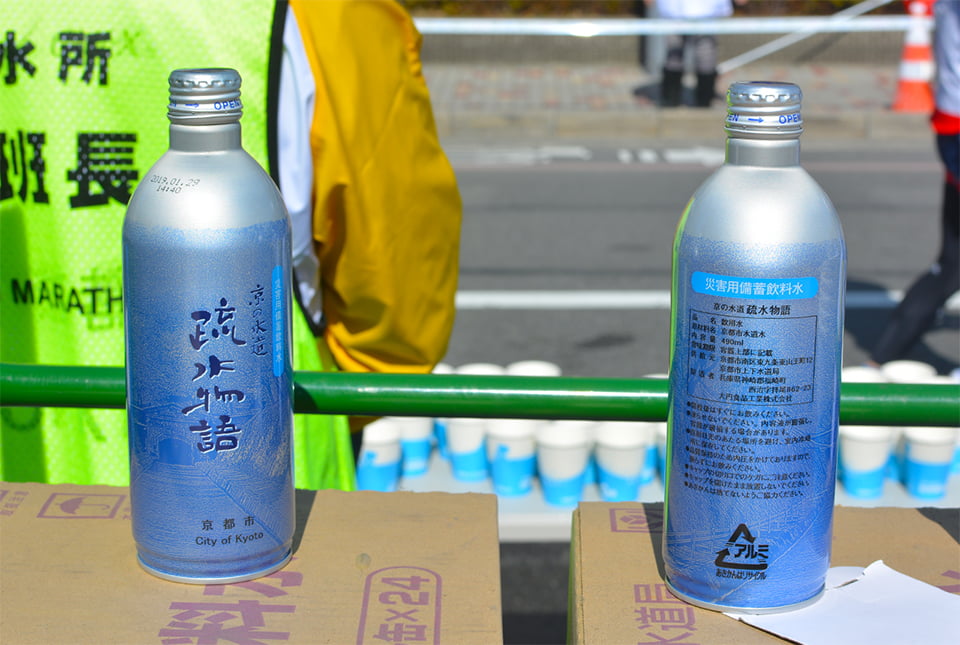 Supplying water in "my cups or bottles"
Runners may fill their own water cups or bottles at all water stations.There will also be water stations exclusively for runners to top-up the cups or bottles that they have brought with them.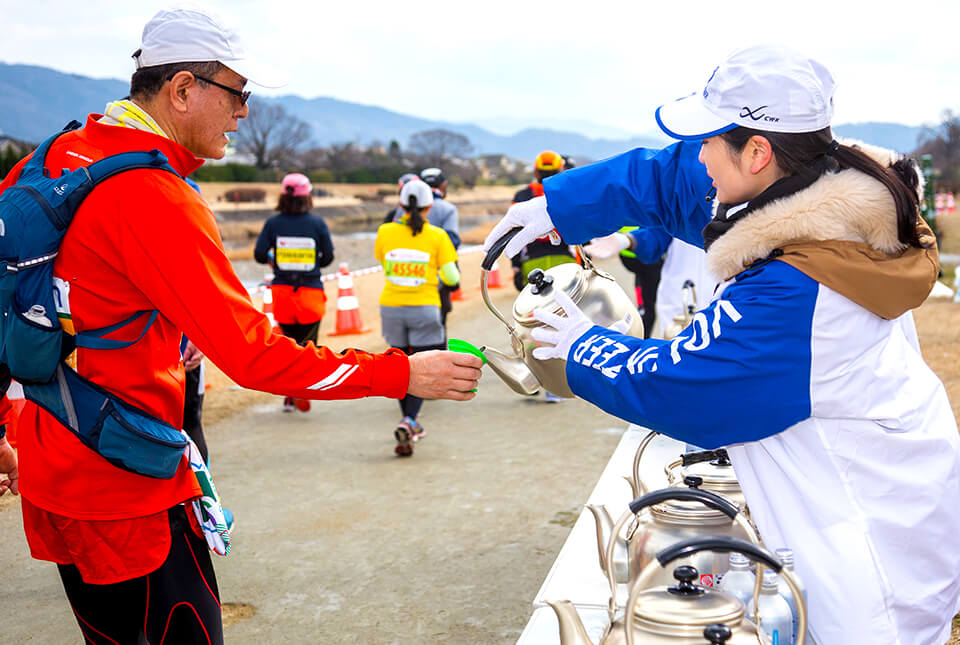 Carbon offsetting
Using the city's "DO YOU KYOTO? Credits," we will try to offset the carbon emissions inevitably caused by the event from such things as the use of electricity at the event sites or the combustion of waste. By doing so, we aim to realize a marathon event with, effectively, zero carbon emissions.
* Carbon offsetting is a method of compensating for emissions which are generated even after doing what we can do to reduce emissions in our daily living and economic activities, by investing in emissions reduction activities which will balance them.

"Eco event" registration by Kyoto City
Kyoto City officially recognizes and registers "Eco Events," which promote and implement all of the "five points for making events more eco-friendly." Ever since the first event, all Kyoto Marathon events have aimed at eco-friendly organizations and have been officially recognized as "Eco Events."

Car Free Day
The city will designate the day of the event (February 16, Sunday) as "Car Free Day" and call for use of public transport instead of private cars.
* Under its landscape policy, the city of Kyoto has few multi-level crossings on streets, and many of its residents work within the city.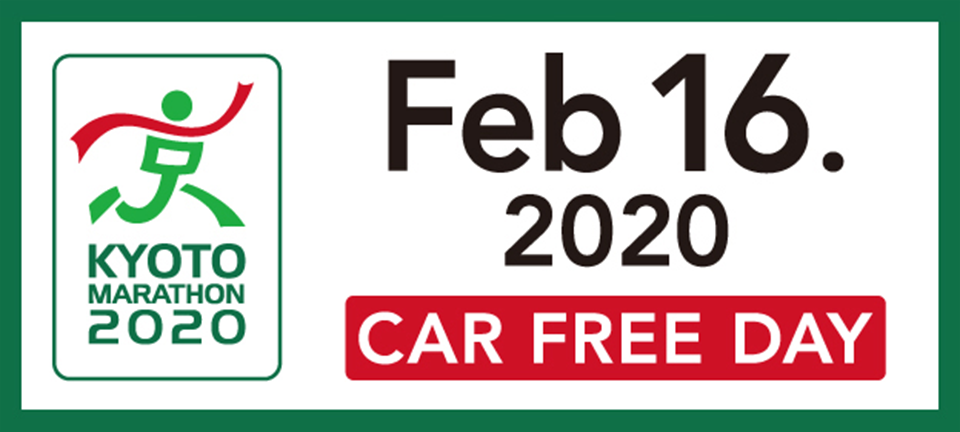 Paperless event using minimal number of printouts
The event will minimize the use of paper, for example, by making finisher records searchable online instead of using prints.
Collection of cold-weather wear at the starting point and elsewhere for reuse
To stay warm before the race starts, we ask runners to bring or wear old sweaters, jackets, etc. that they no longer need. We will collect and reuse or recycle any of these garments that they may take off at the starting point or along the course. Additionally, we will collect and reuse or recycle unneeded official volunteer clothing after the event.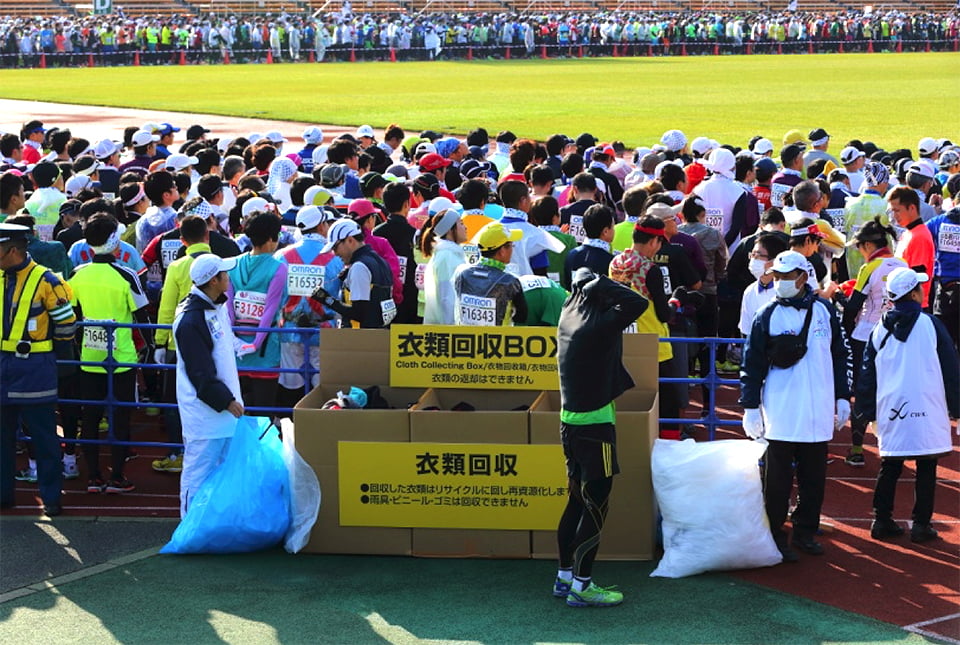 The MIRAI hydrogen car
CO2-free hydrogen fuel cell MIRAI vehicles will join the motorcade.
Reusable garbage bins
Some 450 reusable garbage bins will be set up at water stations.
Donations to food banks
To minimize food waste, we will donate any unused items at water/food stations to food banks*.
* Organizations or campaigns that receive from businesses donations of any food that is to be thrown out, but still fit for consumption, and then donate such food to social welfare facilities.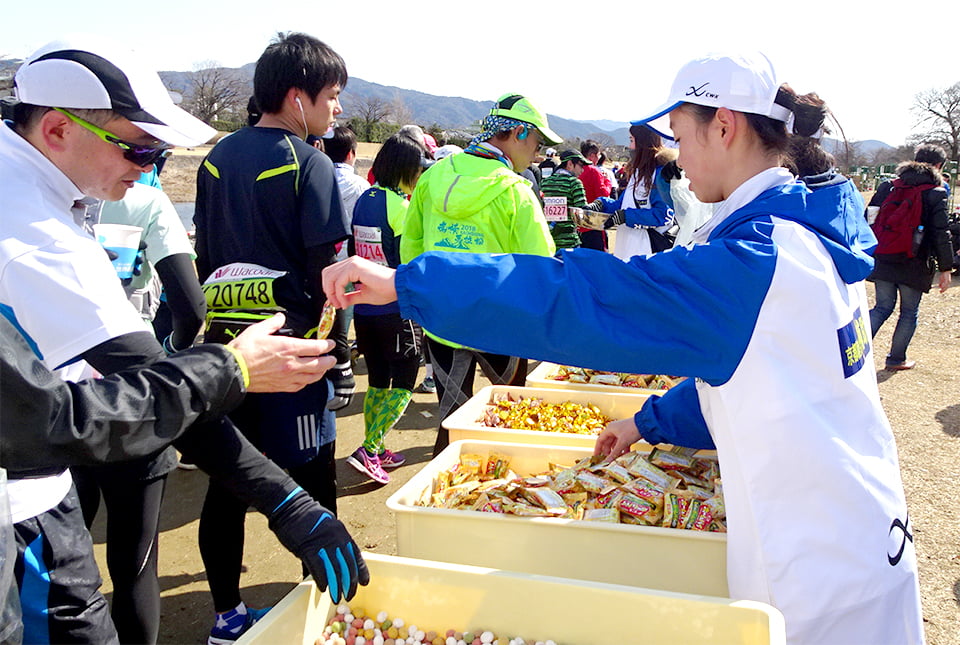 Gold medals to be made out of electronic waste
Aiming to utilize recycled resources,champion's medals will be 100% made out of gold collected from recycled small electronic appliances.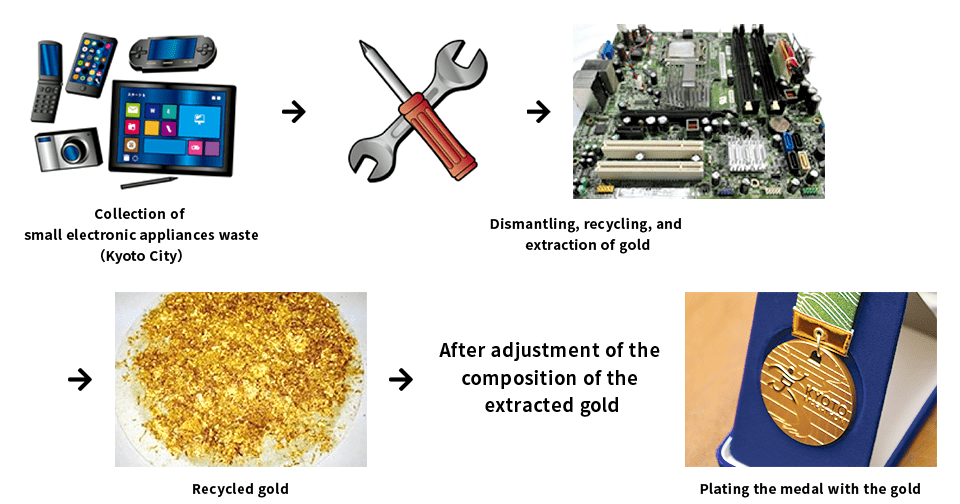 Recycling of volunteer and staff uniforms
At the start/finish areas along the course,volunteer/staff apparel(excluding caps) will be collected and those items of clothing that can be recycled will be cleaned and reused.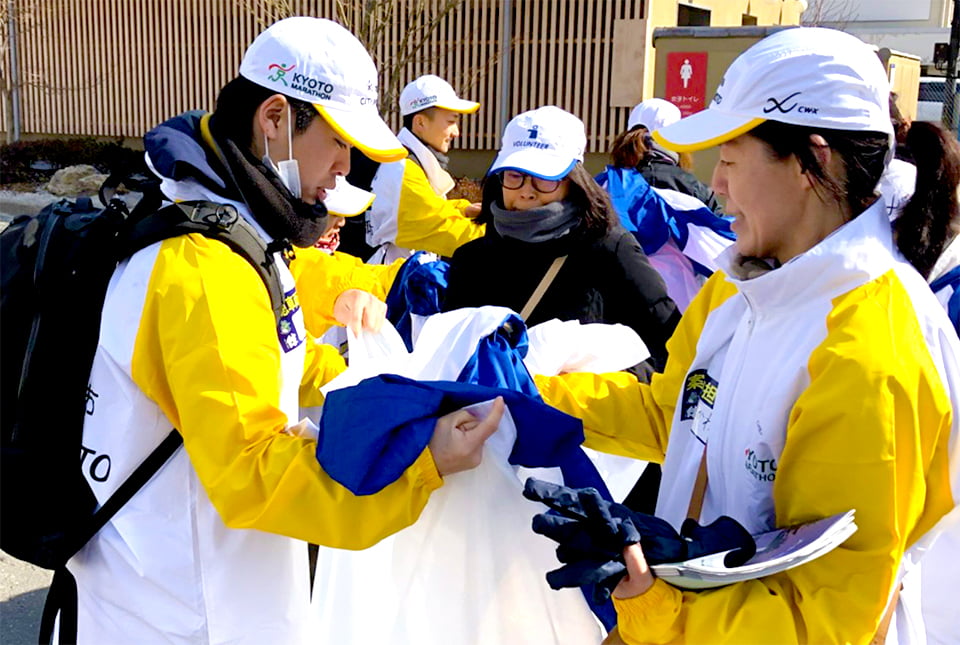 Kyoto Marathon appointed as Kyoto City's "DO YOU KYOTO?" Ambassador
Kyoto Marathon has applied "DO YOU KYOTO?" concept as its main theme and has promoted various environmentally friendly initiatives collaborating with all those concerned. Kyoto City highly appreciates our initiatives and has appointed us as Kyoto City's "DO YOU KYOTO?" Ambassador.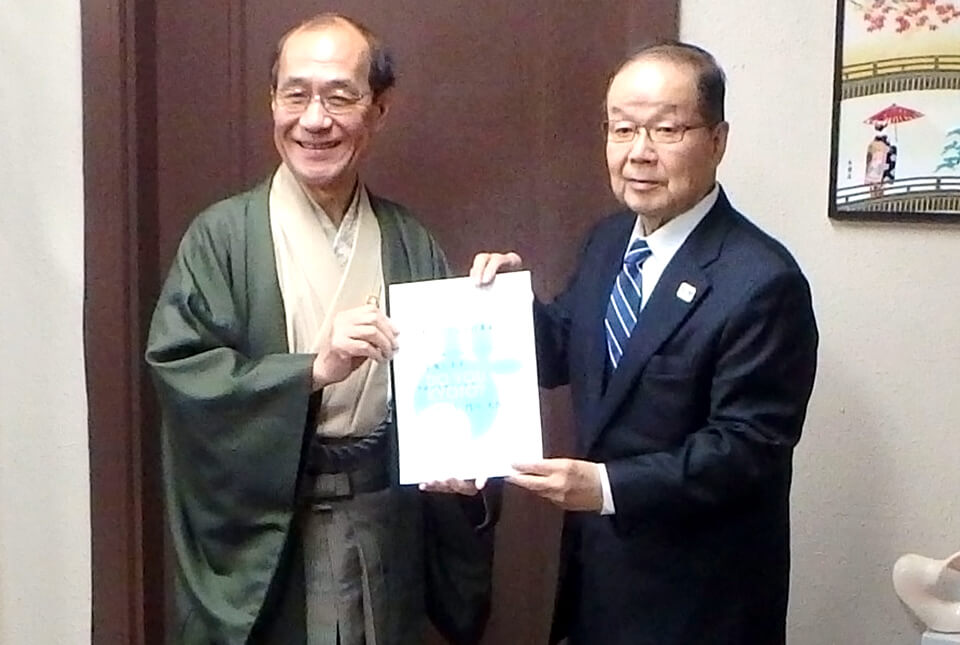 Kyoto Marathon cares about the environment.
To avoid using disposable plastic containers, reusable containers will be used to serve miso soup at the Otsukaresama Runners' Square.

The inaugural Kyoto Marathon took place on March 11, 2012, marking the first anniversary of the Great East Japan Earthquake. With prayers for the lost lives and wishes for reconstruction in mind, more than 500,000 people, including runners from within and outside of Japan, organizing staff, volunteers, and supporters cheering along the course, united to deliver a strong message in support of reconstruction efforts: to give "energy from Kyoto through sport." Kyoto Marathon 2020 will once again provide support for reconstruction efforts and not leave the suffering communities to walk alone.
Major initiatives
Recovery Support Quota with free entry for quake-affected runners
A special-priority Recovery Support Quota with free entry will be available for runners who were affected by the Great East Japan Earthquake (for 200 marathon runners and 40 Pair-Ekiden runners in 20 pairs).
Donations
We will collect voluntary donations (JPY500 per share) from runners with their entry fees plus donations at the event site, and will send the collected money to the affected regions.
Kyoto Marathon 2019 produced donations totaling JPY7,684,166 for the affected regions.
Race bib with inspirational message
Runners will wear bibs carrying messages supporting reconstruction such as "Never forget 3.11," "What I can do now" and "Go forward step by step."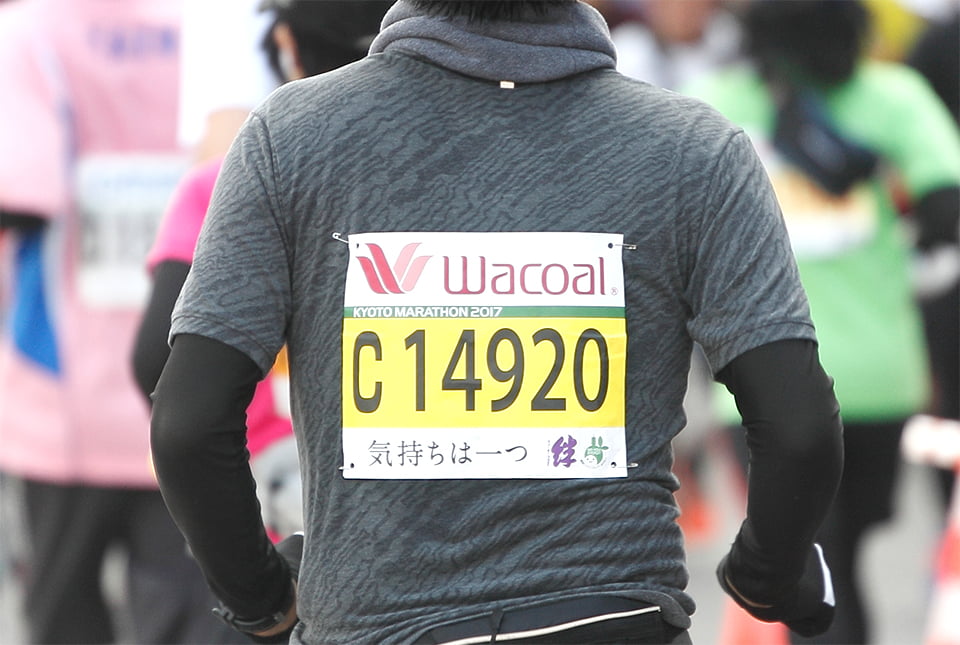 Moment of silence
Before the races start, all participants will observe a moment of silence to remember the victims of the Great East Japan Earthquake and to express their support for reconstruction efforts.
Assistance activities at Okoshiyasu Welcome Square, etc.
Activities for assistance for reconstruction efforts will be held on February 14 (Fri.) and 15 (Sat.) in the Okoshiyasu Welcome Square at the runner check-in point.
Tie-ups with marathons in the Tohoku district.
From among the runners who are residents of Kyoto City and have finished the race, three each (nine in total) will be chosen by lottery to participate in one of three marathons: Sendai International Half Marathon (Miyagi Prefecture), Tohoku-Miyagi Revive Marathon (Miyagi Prefecture), Ichinoseki International Half Marathon (Iwate Prefecture), and Aizu Wakamatsu City Tsuruga-jo Castle Half Marathon (Fukushima Prefecture), while runners from each of these marathons will be invited to take part in Kyoto Marathon.